Preserve Lamorinda Open Space
Latest Developments
MORAGA IS UPDATING ITS RIDGELINE & OPEN SPACE DEVELOPMENT REGULATIONS

Together we can preserve Moraga's scenic beauty, protect wildlife, and prevent more traffic!

PLEASE ATTEND THE TOWN COUNCIL HEARING WEDS., MARCH 11th
Joaquin Moraga Middle School Auditorium, 1010 Camino Pablo, 7:00 pm



For years, developers have said Moraga's open space and ridgelines are well protected by existing regulations…but is this true?

Moraga's open-space protection policies were put to the test recently when the Rancho Laguna II proposal came before the Town Council in 2011. The Council proceeded to approve 27 houses in officially designated "open space" along Rheem Blvd.'s "protected" scenic corridor. (You may have seen the large story poles along Rheem Blvd. between Moraga Rd. and St. Mary's Rd. mocking up some of the approved houses.) Over 358,000 cubic yards of soil will be moved and a ~1,500-foot stretch of the ridgeline will be cut to make way for a road and houses. Is this real protection?

Rancho Laguna II is not an isolated project. Under existing regulations, 167 future houses have already been approved on open hills & ridgeline areas, and another 367 are either proposed or could be allowed under current zoning densities. In addition, 673 new downtown or in-fill units are approved or possible, so that Moraga faces up to 1,207 additional residences--a potential 21% increase in Moraga's housing 1--in coming years. Some of this future development is already irreversible, but the upcoming hearing will address remaining open space we can still protect with good planning policies.


MORAGA'S APPROVED AND POTENTIAL HOUSING UNITS:
| | | |
| --- | --- | --- |
| Development Project | # Housing Units | Status |
| Open Space, Hillside and/or Ridgeline Areas:2 | | |
| Palos Colorados (along Moraga Rd; NE of Campolindo) | 123 | Approved |
| Rancho Laguna II (along Rheem Blvd.) | 27 | Approved |
| Hetfield Estates (off Sanders Dr.) | 7 | Approved |
| Vista Encinos (near Larch Dr.) | 10 | Approved |
| Bollinger Valley (near Bollinger Canyon Rd.)3 | 152 | Proposed |
| Painted Rocks (along Moraga Rd. & Rheem Blvd) | 15 | Proposed |
| Indian Valley (Canyon Rd, by Valle Vista Staging Area) | Up to 200 | No application yet |
| Moraga Center Specific Plan (MCSP) Area: | | |
| Camino Ricardo Subdivision (along Camino Ricardo) | 26 | Approved |
| Moraga Town Center Homes (Moraga Way by Fire Stn.) | 36 | Proposed |
| Remaining Additional Units Allowed Under MCSP4 | Up to 528 | No application yet |
| Other In-fill Developments: | | |
| Augusta Dr. Extension (Moraga Country Club) | 65 | Approved |
| Via Moraga (old bowling alley site on Moraga Rd.) | 18 | Approved |
| TOTAL POTENTIAL FUTURE UNITS | UP TO 1,207 | |
1. There are 5,754 housing units in Moraga according to the 2010 U.S. Census.
2. Denotes open space, hillsides, or ridgeline areas along scenic corridors or surrounding residential zones.
3. Bollinger Valley figure includes 26 proposed second units.
4. The approved Moraga Center Specific Plan (MCSP) covers the Safeway Center & surrounding orchards & lots. So far one MCSP development (Camino Ricardo) is approved & another (Moraga Town Center Homes) is under review. MCSP densities allow up to 528 more units in remaining MCSP areas.

For now, Moraga still has stunning open spaces that we drive by every day, as well as a surrounding greenbelt rich with wildlife, creeks, and forests. Some amount of new development will come to Moraga, but major housing increases, particularly in open space areas, would bring huge changes to the feel of Moraga and its quality of life.
How will Moraga's semi-rural character change if undeveloped scenic corridors and cattle-dotted hillsides are replaced with development?


How will Moraga's traffic commutes worsen if our already congested roads must absorb thousands more daily car trips?


How will the schools accommodate the new enrollment associated with as many as 1,207 new residences?


How will Moraga's wildlife be affected by losing more and more habitat?

As the Town reviews its ridgeline, hillside, and open space regulations, it needs to know whether Moragans want stronger policies to protect remaining open space from overdevelopment. The last time Moraga reviewed these regulations was 12 years ago, so this is a rare and crucial opportunity to protect Moraga's scenic beauty and quality of life for the next decade and beyond.

Please attend the Town Council hearing on March 11th, 2015 to show Moraga's leaders you care about these issues. Even if you don't speak, please come to show the Council that this issue is important to Moraga. The meeting will begin at 7:00 pm at JM Middle School Auditorium, 1010 Camino Pablo. This issue will not be the only item on the meeting agenda that night. You can check the full agenda at: http://www.moraga.ca.us/council/about:

BOLLINGER VALLEY FINAL ENVIRONMENTAL IMPACT REPORT STILL PENDING.

In Spring of 2013 the Town of Moraga circulated a Draft Environmental Impact Report (DEIR) for the proposed 152-unit "Bollinger Valley" development on 186 acres of open space adjacent to Las Trampas Regional Wilderness.

If approved, this project would add nearly 1,400 daily car trips to Lamorinda's roads, bulldoze an astonishing 1.5 million cubic yards of soil, cut down more than 300 mature native trees and line a pristine ridgeline with rooftops. Precious habitat for raptors and songbirds, foxes, coyotes, deer, and bobcats, as well as threatened species such as the California red-legged frog and Alameda whipsnake, will be lost forever.

The Town received extensive public comments on the DEIR including a detailed legal and technical analysis by PLOS. The next step is for the Town to prepare a Final Environmental Impact Report (FEIR) responding to those comments. The release date of the FEIR is unknown.

To see photos of Bollinger Valley click here.
The Draft EIR is available at: http://www.moraga.ca.us/dept/planning/Major%20Projects/BollingerValley .


PLOS SECURES STRONGER PROTECTION FOR MORAGA'S CREEKS AND WILDLIFE ON CAMINO RICARDO SUBDIVISION

Last year Moraga approved the 26-home Camino Ricardo development as part of the Moraga Center Specific Plan. In the fall of 2013, PLOS learned of plans to use the project's beautiful open space area next to two valuable creek habitats as a soil disposal site. PLOS met with the developer, Summerhill Homes, suggesting ways to reduce grading, restore native vegetation, and protect habitat for wildlife species that depend on the site's two creeks. To its credit, Summerhill listened and implemented these suggestions, and the Planning Commission ultimately approved a plan that reduces grading by 25%, better preserves creekside habitat, and avoids soil disposal on the open space, using it instead to create a preserve for native plants, wildlife, and environmental education for the community.

RANCHO LAGUNA II GRADING MAY BEGIN IN SPRING 2015

In 2011, by a vote of 2-1, the Moraga Town Council approved the 27-house Rancho Laguna II development on the scenic corridor along Rheem Blvd just north of St. Mary's Rd. Although the 27 houses and their basic layout are now approved (over PLOS's objections), PLOS continues to work to mitigate project impacts wherever possible. In 2013 a new developer took over the project (Summerhill Homes, the same developer on the Camino Ricardo project discussed above). PLOS met with Summerhill to discuss ways to reduce project impacts and Summerhill agreed to several project changes including moving two ridgeline houses to lower elevation, reductions in ridgeline grading, and fewer tree, wildflower, and wildlife impacts. The project will likely receive its final permits in the next few months and grading may begin as early as this spring.

MAJOR DEVELOPMENT PROPOSED FOR "PAINTED ROCKS" OPEN SPACE AREA

Last year a major development was proposed for the "Painted Rocks" open space. The project area consists of the hills at the intersection of Rheem Blvd. and Moraga Rd., extending southeast on Rheem nearly to its crest (across from the Woodminster/Rancho Moraga complexes) and extending north on Moraga Rd. to Buckingham Dr. This land falls within two designated scenic corridors and the entire property is zoned "open space" in the Moraga General Plan.

The proposal includes 15 houses on the Moraga Rd. side, and a performing arts center, "hospitality center," athletic fields, and winery on the Rheem Blvd. side. Because of the land's extensive landslides, massive grading and geotechnical remediation would be required to accommodate the development. The owner currently estimates the grading volume at 800,000 cubic yards of soil. This is roughly twice the grading proposed for the approved Rancho Laguna II project immediately ajacent to the Painted Rocks parcel along Rheem Blvd. No Environmental Impact Report is available yet for this proposal, and no hearings have been scheduled to date.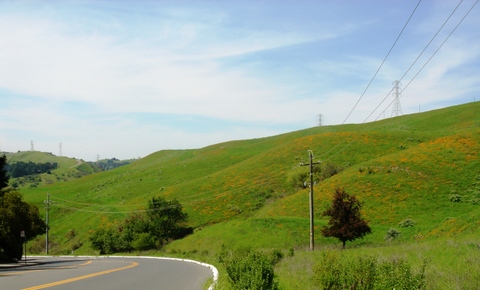 PHOTO--Rheem Blvd. Scenic Corridor Looking North. Future site of athletic fields, performing arts center, winery, and "hospitality center"?
HETFIELD SUBDIVISION STATUS
In July 2013 the Moraga Planning Commission approved the Hetfield Estates subdivision on a 58-acre open space parcel near Sanders Drive. This approval came after several years of sustained public testimony and technical input by neighboring residents and PLOS, and the project was ultimately reduced from the proposed six 6,000-square-foot houses on 7 acres, to seven 4,000-square-foot houses on 3 acres. The applicant is now preparing the final building plans for Town approval.
PLOS can be contacted at:
Preserve Lamorinda Open Space
P.O. Box 6632
Moraga, CA 94570-6632
925-878-9682